COLOR ORGANISATION
ITI Supplies – News
409-> Secure dispatch control: labels and tags with detachable/easy tear-off portion

The reliability of an organization depends on the traceability of its processes. Controlling the loading procedure is a critical matter as the goods pass from the supplier to the customer. If there is a discrepancy, a clear proof of which goods were loaded is of great advantage. Experience has shown that the recording of packages via barcodes is frequently not recognized as clear evidence. All our tags and labels are available with detachable portions. If the portion is printed with an identification number, it is unequivocal. If you collect these portions during loading you will have physical evidence of what was loaded on the truck or on the wagon. This is how disputes with customers can be avoided and it gives you an accurate overview over what was shipped.
Application: Organizing the loading process with dispatch control
Benefit: Clarity due to physical evidence in the form of a detachable portion
Sample Requests: info@laserprinterstickers.com or call 305-393-8669
408-> Engineering companies as logistics centers in supply chain management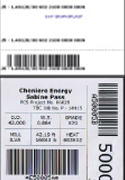 Parts identification in engineering companies is an extremely complex task. The machine parts configuration is at least as versatile as the accessories with which the shipping information and specifications are attached to the parts. A leading engineering company in the energy sector counts on automatic data capture via barcode for parts logistics. The best results for reliable data capture were achieved by a GRAPHIPLAST® combination label with multi-functional fastening options suitable for laser printers. Two self-adhesive sections are used for recording when the goods are received and to check against the delivery documents. Another special feature: the labels are individualized and sent to suppliers with the orders to ensure that the process of receiving goods in the plant runs smoothly and consistently.
Application: The versatile solution: combination label for parts logistics
Benefit: Standardized labeling in the supply chain
Sample Requests: info@laserprinterstickers.com or call 305-393-8669
407-> Increased printer availability using cabinets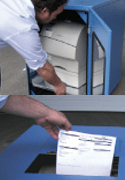 Thermal transfer or laser printers for barcode applications in production and warehouse environments are often exposed to cold, oily air, dust and, sometimes even incorrect handling of printers can markedly reduce the availability of the devices. As user-friendly laser printers are more and more widely used for this type of application, a protective cabinet has now been de-veloped which eliminates all these influences. The air is filtered, the heating switches on automatically to protect against frost and the cabinet can be locked which also offers protection against theft. With this solution, troubleshooting by network administrators has been markedly reduced and the life-span of the printers increased.
Application: Increasing reliability of label printers
Benefit: Less time spent on printing systems administration
Sample Requests: info@laserprinterstickers.com or call 305-393-8669
406->Steel Service Center optimizes warehouse org.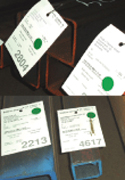 Due to the ample range of different products, full identification and data capture on suitable media are a challenge. In order to increase the efficiency in their logistical process, a Service Center recently changed over to material tracking via barcode. Whether it is for warehousing, processing or shipping: the straightforward handling of laser printers and the customized label solution with GRAPHIPLAST® 7297 already proved their worth in the trial phase. As a tag and self-adhesive combination, our labels are the business cards on all products in steel service centers.
Application: Multifunctional solutions for steel service centers
Benefit: Transparency in the warehouse and perfect appearance
Sample Requests: info@laserprinterstickers.com or call 305-393-8669
405-> Color codes for material flow control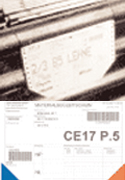 Whether it is for status monitoring of containers or passing through gauge andtesting stations - for the material flow theavailability of status information is essential. A forklift truck driver must be able to see from his vehicle where a material is to be taken. Labels and documents made from GRAPHIPLAST®can be printed in advance. Thecolor coding can then beremoved after the various processes, because of its perforations. In this way, color coding makes it possible to recognize the origin ofmaterials and to safely control allocation to a delivery. For more complex processes, forinstance in multi-stage manufacturing with status monitoring, the S+PMulticolor® code, a software based status monitoring system, offers secure options for material flow control.
Application: High-level material flow control
Benefit: Reliable process control through clear identification
Sample Requests: info@laserprinterstickers.com or call 305-393-8669
404-> Color printing with laser printers – what to look out for?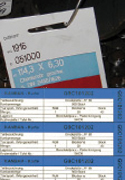 Kanban cards, color codes for warehouse organization, hazard symbols – there are many examples for applications where color printing is used as an organizational means in identification. For printing systems, laser printers have emerged as the dominant technology. Color laser printers are increasingly entering the world of industrial labels. What is there to look out for when printing labels on color laser printers? Mainly, the systems are based on two principles. The basic option with a compact design has four toner stations with just one fusing unit and the advanced option has separate printing units and fusing stations. The important aspect for plastic materials and labels is that both systems have the facility to adjust the trays to heavy paper varieties. If this is not available, insufficient fusing of the toner can result.
Application: Software-controlled color identification with color laser printers
Benefit: One label for different layouts
Sample Requests: info@laserprinterstickers.com or call 305-393-8669
403->Individual color printing with color laser printers

What started as a revolution for office applications and all-in-one devices is now set to conquer the factory environment. Today, color laser printing is an economical alternative. Printing costs per page are quickly approaching those of conventional B/W printing. Lexmark, a partner for laser printing systems, combines versatility and robustness of the renowned T series with the advantages of color printing with its proven C 762 model.
Application: Color as added value at comparable costs
Benefit: Illustrations, presentations, and information in color
Sample Requests: info@laserprinterstickers.com or call 305-393-8669
402->Color print as alternative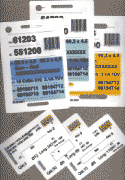 Color printers have experienced the greatest developments in the last few years. Color labeling offers diverse advantages in warehouse labeling to determine qualities and other assignment criteria. In the past the high costs for color print prevented the printers from being applied in the industrial environment. The printing speed and data processing were often hopelessly inferior to conventional black printers. A new technology revolutionizes this sector: solid ink, a procedure similar to the ink jet printing method with the combination of low costs, excellent printout quality and industrial suitability.
Sample Requests: info@laserprinterstickers.com or call 305-393-8669
401-> Color coding facilitates stock control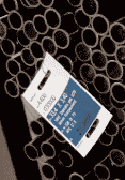 In the past S+P had introduced the Multicolor® system for identifying similar products or parts that belong together by a system of colors. In the age of color printing, systems software supported color marking, printed on laser or solid ink printers on GRAPHIPLAST® labels is a viable solution. Color codes can be printed as a large solid field to make identification from a longer distance such as from a crane possible. The example of the tube trade shows that locating of individual items and grades can be speeded up considerably. In the days of short lead times this is an organisational improvement.
Benefit: Color coding for easier stock control
Sample Requests: info@laserprinterstickers.com or call 305-393-8669
ITI Industrial Supplies is now on Facebook.
Like our page and stay up to date with our products and developments.